2023 Holiday Menus
Tis the season for celebrations, customize the perfect event for your group with our 2023 Holiday Event Menu! These menus will be active for events from November 27th, 2023 through January 8th, 2024. View each menu below for additional details, and press the button to inquire about scheduling your next holiday event at The Whittaker. We can't wait to welcome you!
Pick 5 Holiday Lunch Menu
For our "Pick 5 Holiday Lunch Menu", the event planner will choose 5 options from our salad, sandwich, and dessert offerings (ex. 2 salads, 2 sandwiches, and 1 dessert or 1 salad, 3 sandwiches, and 1 dessert). These 5 options will then be served family style on tables to guests, with at least 1 serving of each chosen option available for every individual in attendance unless noted otherwise. Premium options or more than 5 choices are available upon request, but will have an upcharge.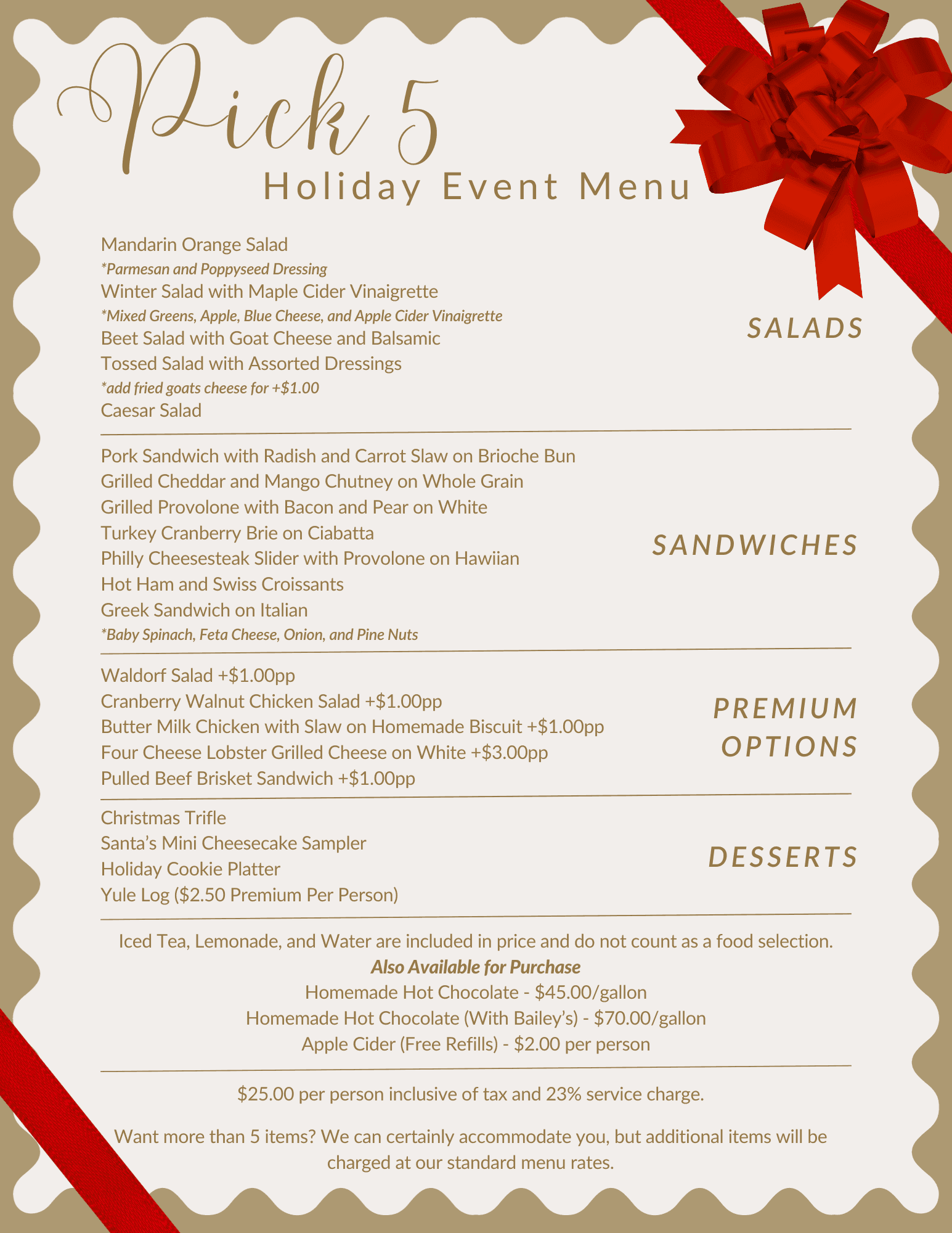 2023 Holiday Dinner Event Menu
For our "Holiday Dinner Event Menu", the event planner will choose 3 appetizer options, 3 entree options, 3 side options, and 2 dessert options for their guests to choose from. Guests will pre-order their meals based on the options that the event planner has chosen. The meals will be mostly or completely plated for guests to enjoy during the event. Menu options chosen by the event planner are required 2 weeks in advance of the event date, with final guarentee of numbers and each individuals meal selections due 72 hours prior to the event date. Menu choices greater than the noted available can be provided but will result in an additional supplemental cost of $5.00 per person.